| | |
| --- | --- |
| | Style News |
"All Men Are Created Equal", but we don't all look alike, think alike or dress alike. Whatever profession, position, physique, personality or taste, we will give you whatever assistance you want to help you select tailored clothing that's a perfect fit in every way. Classic, conservative, contemporary, fashion forward or edgy - whatever your style, we can tailor the garment best suited for you. You may select from hundreds of fabrics to be made in the model that you prefer, with style details of your choosing.

For the ultimate in the "Made For You" look, add working button holes on the sleeves.

"Pic" stitching on the lapel edge.
These details are normally found on suits costing $2000 and up.
We are here for you, so Suit Yourself.
---
Fashion Statements
ELEGANCE
"A manner of dress reflecting dignified richness and grace"
Elegance radiates charm and good looks with both confidence and tastefulness. Sometimes referred to as being "polished", there are no more rough edges or dullness. It is luster, without being slick.
If elephants never forget, then elegance is never forgotten.
At Suit Yourself, we can't make you elegant, but we can certainly make you look and feel elegant.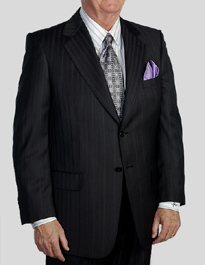 This Gray, Super 120's shadow-color stripe, 2 button suit with a higher button placement and a "club" notched lapel is an excellent example of elegance, combining the classic with the contemporary. Worn with a white shirt with a subtle gray, textured-stripe, dress collar and French cuffs, combined with a silver, gray, black and purple tie and purple pocket square, it speaks of richness and dignity.
---
SOPHISTICATION
"To dress as one wise to the world, knowledgeable of what works and what is appropriate, subtle but sharp."
The sophisticated learn from where they've been, know where they're going, and look like they have arrived.
Sophistication is knowing how to express and impress, without excess. It's knowing the difference in making an impression and making the best impression.
Let us help showcase the sophisticated man in you, with the sophisticated apparel we put on you.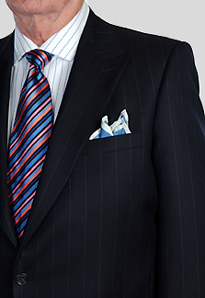 This suit of Navy Blue Twill, Super 120's with a light blue "broken" stripe, edged with a self stripe, styled in a one-button peak lapel, highlights sophistication with a flare. Enhanced by a bold but tasteful multi-stripe tie of blues and pinks, on a white with wide blue stripe, spread collar shirt, it is sophistication personified. (Note: the light blue, edged-in-white pocket square finishes the look.)
---
STYLE
"Excellence of artistic expression"
Style is an outward expression of the artistic side within you, combined with a high level of taste.
It is influenced by fashion, but not a victim of it.
Style is more concerned with what you like, what makes you feel comfortable and look good. On the other hand, fashion is what someone else likes and thinks will work for everyone else, regardless of their style.
Style evolves, but is not fickle. It can be fun, but never funny. It's a statement of consistency without stubbornness. You know when others have it and you sense when they know you have it.
At Suit Yourself, we are not as concerned about what's in style, as we are about helping you find your style.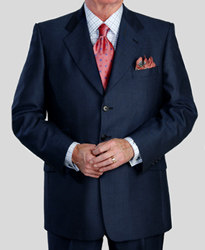 This 3 button Navy Shadow Check in Super 110's combines light and dark blue, resulting in a bright, light navy spring/summer hue. The blue-on-white subtle plaid shirt, coupled with the pink and blue patterned tie demonstrates the tasteful yet interesting combination of pattern and color. The soft rope shoulder and side vents give the coat a structured yet sporty appearance.