Our business is built and continues to grow as a result of referrals from our clients and friends. In appreciation, we are pleased to offer a Referral Reward and Incentive Program.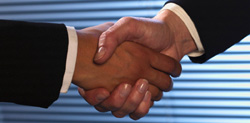 When a client graciously provides us with the name of a friend or associate he thinks might be interested in our service, we will give the referred a free tie upon delivery of their first suit.
When the referred makes that first purchase, we also give a free custom shirt to the client as a token of our appreciation.
If you have people you think would appreciate our service, please e-mail us at info@customsuityourself.com or call 446-2043 or 800-443-7949 if outside Columbia and we will contact them promptly.