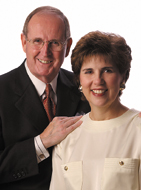 Bill and Debbie realize that successful people need a coordinated wardrobe tailored to reflect their profession, position, personality and preference. They believe that your wardrobe should be an asset, not a liability and Suit Yourself is ready to produce a wardrobe of custom suits, shirts, sport coats and slacks to give you the return on investment you expect from your wardrobe.
With over 30 years' experience in the apparel trade, Bill can help you select the color, fabric and style of clothing that suits your profession, position, goals, physique and coloring.
You select from hundreds of the finest fabrics from around the world to be tailored in the clothing that makes you look and feel your best.
By appointment at your office or home - it doesn't get any easier.
For convenience, selection, value and style, Suit Yourself is the perfect fit.
Contact us today to arrange for your personal appointment.